Starting up a medical/specialist practice:
What do we need when starting a medical practice?
Hello readers
Today, I will discuss all the essentials that we need to set your medical practice up. This blog will help you understand and work through the various stages of starting a medical practice and discuss the issues you will need to consider.
What do you need to start?
The fact that general practice is built on one-on-one relationships is one of its distinguishing features (The Royal Australian College of General Practitioners, 2012). General practitioners can operate in various roles, including employee, associate, partner, independent contractor, firm shareholder, or director. You have the opportunity to establish a distinct personal practise style in each capacity. There are several considerations to consider while opening a medical practice. For example, you must be clear about what you want to achieve personally, your talents and resources, the services you want to provide, and other business aspects that will help you make an informed decision, for example:
an accountant
a solicitor
a bank manager/finance broker
a real estate agent/buyers advocate
an architect.
Where shall I set my practice up?
It is critical to consider visibility while choosing a place. People passing by the clinic could be potential patients. Locating the practice near other health care institutions, such as allied health professionals, pathologists, pharmacies, or hospitals, will also aid in generating new patients. Due to their great exposure, shop-front practices in shopping malls attract many new customers; in these instances, it is generally preferable to position the office near a pharmacy.
You may also want to consider personal factors such as your partner's career, closeness to extended family and vital professional contacts, possibilities for professional development, and children s schooling. Other critical concerns include the area's demographic profile (You can find the demographic statistics at www.abs.gov.au), supply and demand for medical care, economic and infrastructure growth, and the co-location of other health care institutions.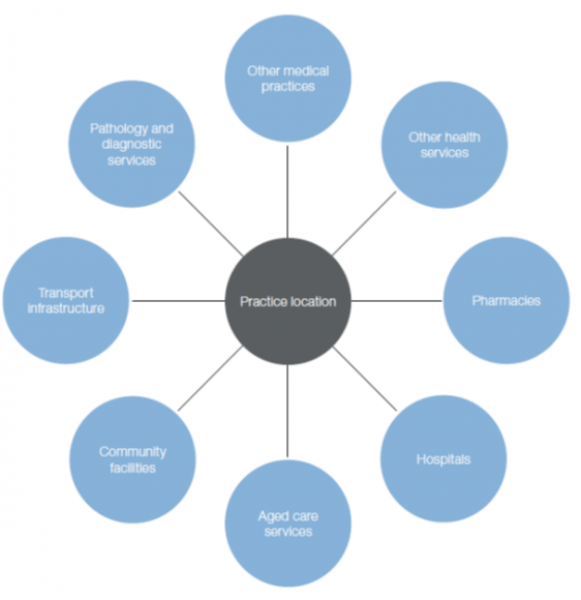 Figure 1. Factors to be considered when picking the practice location for your medical practice (Australian Family Physician, May 2010).
How shall I design the practice?
Creating a new practice will enable you to work for many years in a practice that is tailored to your vision and needs. It will allow you to adopt many of the latest methods to activities and workflows in general practice. This investment will pay off big time in the long run. Designing, acquiring council permissions, building, and commissioning the practice might all take at least a year.
Many individuals talk about 'outgrowing' the space they had created only a short time before or about being unable to provide the type of healthcare they want since the facility was constructed to suit an 'outdated' model (e.g. focused on a working area for physicians alone). If you intend to design and create a new clinic, evaluate your long-term practise strategy and design with flexibility in mind.
Talking about business
The structure you pick to conduct your medical business is significant for many reasons, including legal concerns, financing/capital requirements, continuing costs, and tax ramifications.
You may want to consult a business counsel or an accountant to determine the best approach to arrange your medical practice. Business and taxes legislation is complicated and needs the assistance of an expert. Creating the finest business structure from the start helps you maximise your company's financial performance, secure your assets, and allow new business colleagues in the future. The federal and state governments dictate how you do business in your profession. They are particularly concerned with ensuring that you comply with all business-related statutory obligations.
Financing a medical practice
You may need to employ various finance techniques at times. The sort of finance necessary is determined by the objective, the duration required, the level of security provided, and the degree of flexibility required. Self-financing, equity or debt are the most common types of financing. Putting your own monetary assets into a firm is one method that lowers operating costs; however, most doctors starting out do not have the funds to support this from their own resources.
Equity financing entails selling a portion of the practice to another person, who then adds funds. This happens when a new partner joins a practice. It entails relinquishing control of the practice. Thus, it is critical that you select equity partners carefully. MediSquared offered a range of medical consulting rooms and medical suites for short-term or sessional bookings at competitive prices, which can lower the operating costs when running a practice.
What kind of human resources do I need?
Employing the correct balance of skills, knowledge, and competency in your personnel will significantly impact the quality of service delivered to patients in your clinic. To fulfil your practice goals, you will need to assemble the ideal team. Remember that your personnel will make the initial impression on patients. Poor employee selection may have a detrimental impact on performance, morale, and operational expenses and contribute to a variety of disputes. Positive staff selection, which involves selecting the right individual and allocating the proper resources to support the role, is a powerful component of providing great patient-centred care.
You will need to consider and compile a detailed list of all the primary care services that your practice may provide and the tasks that must be completed in the practice to provide the services. You can read up on the different types of specialists here: Starting a career in the medical industry: The different types of specialist colleges in Australia.
Otherwise, here is an example of a practice team (Table 1):
Table 1. Worked example of a practice team (The Royal Australian College of General Practitioners, 2012).
| | |
| --- | --- |
| Practice services | Role/title |
| Clinical services | General practitioners |
|   | Practice nurses, nurse assistants |
|   | Allied health professionals |
|  Administrative services | Receptionist, accounts manager, payroll officer, book-keeper |
| Business services | Business manager |
| Operational services | Practice manager |
| IT/software services | IT consultant |
| Multicultural services | Multicultural health workers and/or indigenous health workers |
Keep tuning for our incredibly insightful and modestly-pitched articles on starting your medical practice: https://www.medisquared.com.au/blog
Take care, and good luck with your first medical practice!
References
Australian Family Physician.
General practice management toolkit - Starting a medical practice. The Royal Australian College of General Practitioners.